Sounding Level Meter for more information
Sounding Level Meter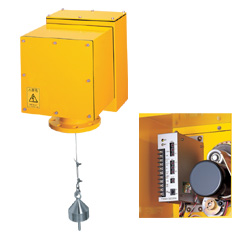 Effective in the inventory management og the powder particles, Accurately measured without being affected by the dust.
Only setup is to input the measuring length.
Measuring length can be set to any in the measurement range.
Measured value is output in DC4~20mA and pulse count.
Each operation and states are treated with a one-chip microcomputer built into the controller, and then promptly inform the occurrence of an abnormal condition such as wire disconnection or wait buried in signal output and LED display.
Maximum measuring length TLX-120AP1:12m / TLX-200AP :20m
Sounding Level Meter Dimension download
In addition to the above specifications, we will manufacture according to any specifications. Consult our sales staff for selecting models and specifications.